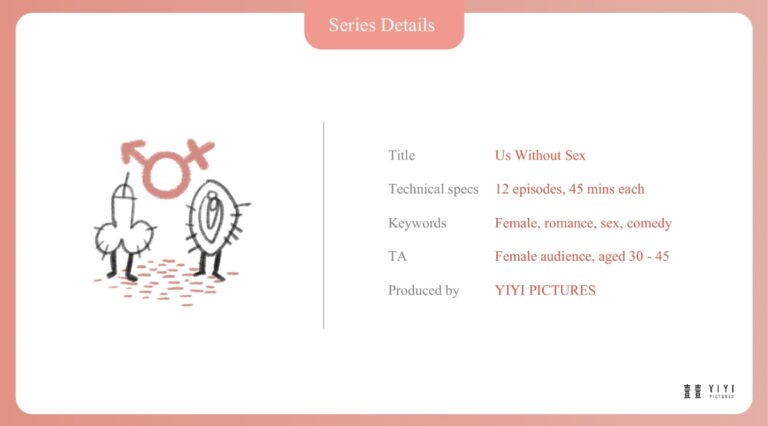 規格|劇集
集數|12集
類型關鍵字|女性、情感、性、喜劇
製作人|黃郁茹
編劇|蔡沂澄
導演|李俊宏
開發中
青語和佳晨,兩人是高中時代的宿敵,出社會後卻意外發展成醫病關係。
文靜溫柔型的青語,看似有理想的家庭和工作,卻無法跟老公阿哲做愛;同時發現姊姊外遇、老母親梅開四度的消息。家人的戀愛鳥事不僅搞得她烏煙瘴氣,更反過來動搖青語對性事與愛情的觀念。
豔麗奔放型的佳晨,是一名性治療諮商師,近來開設youtube頻道,在鏡頭前大方說愛談性。追求者眾、掌握豐富性愛技巧的佳晨,亦不能免於情場挫敗。她最大的遺憾是「戀人未滿」的王紀華:她第一次開口說愛,卻換來他人間蒸發。
在青語與佳晨進行療程的過程中,陸續有老年人、性成癮、同志……等個案的諮商,其中,還有每週一次電話諮詢的神秘男子Z。
當青語逐漸勇於面對自我,和阿哲揭開過往傷疤,兩人關係也來到臨界點。而曾讓佳晨傷心的王紀華,又重新走進佳晨的生命。
兩個性格迥異的女人,各自在探索性的療程中,找到愛的救贖。
Ching-Yu and Chia-Chen were once enemies in high school, but after years, they unexpectedly ran into each other again because of "sex".
The quiet, introvert Ching-Yu seems to own a happy family and a dream job, but she just can't make love to her husband, A-Che. At the
same time, she finds out that her sister is having an affair and her mother is going to marry for the fourth time. Her younger brother
Ching-Wen, the role model in a relationship, and his gay boyfriend are also having unprecedented conflicts. Issues about love and sex in this
family not only drove Ching-Yu crazy, but also shook her thoughts on love and sex.
On the other hand, the gorgeous and extrovert Chia-Chen is a sex therapist by profession. With the support of the clinic, she is also a
famous YouTuber who often talks about sex in front of the camera. Although Chia-Chen has much experience in bed and is familiar with
how to enjoy sex, she is not immune to frustrations in a relationship. Her biggest regret is the man who she can't forget: Wang Chih-Hua, the
very first man in whom she invested her love and then broke her heart by disappearing into thin air.
It seems like Ching-Yu became Chia-Chen's patient by destiny. As Chia-Chen tries to solve Ching-Yu's sexual problems, other cases
regarding minors, sexual violence, older gays also come into the picture. Among them, there's also the mysterious Mr. Z who calls once a
week for consultation via phone.
As Ching-Yu gradually learns to face herself and deal with the past with A-Che, their relationship reaches a critical point. For Chia-Chen,
the heart-breaker Wang Chih-Hua also walks into her life again… Now she has to answer the critical question: What she holds for Wang, is
it love or simply the desire to conquer?
In this story, two women with different personalities try to find love and redemption in their respective therapies of "sex".